Please Note: The following is posted under sections 1-4 of Fair Use under U.S. Copy Right Law
Last Sunday Ray Allen thanked the collaboration of hospitals around the country, including some here in Boston, for diagnosing and treating his son with Type I diabetes. The full page ad Allen took out in the June 22, 2008 Boston Sunday Globe is clickable below, as well as excerpts of his transcribed message applicable to healthcare. Reaction and critique are below.

(Click Image for Larger View)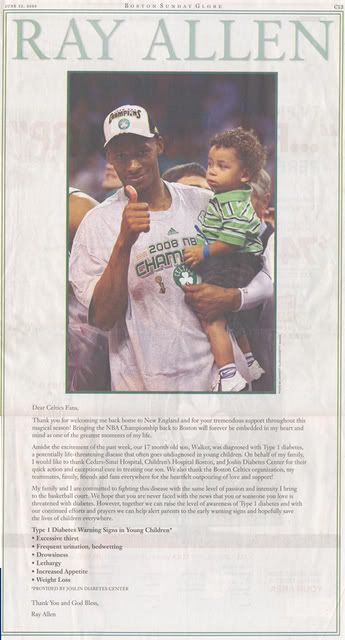 Excerpts of Ray Allen's Message:
…Amidst the excitement of the past week, our 17 month old son, Walker, was diagnosed with Type I diabetes, a potentially life-threatening disease that often goes undiagnosed in young children. On behalf of my family, I would like to thank Cedars-Sinai Hospital, Children's Hospital Boston, and Joslin Diabetes Center for their quick action and exceptional care in treating out son…

…My family and I are committed to fighting this disease with the same level of passion and intensity I bring to the basketball counrt. We hope that you are never faced with the news that you or someone you love is threatened with diabetes. However, together we can raise the level of awareness of Type I diabetes and with our continued efforts and prayers we can help alert parents to the early warning signs and hopefully save the lives of childrens everywhere…

Type I Diabetes Warning Signs in Young Children*
Excessive thirst
Frequent urination, bedwetting
Drowsiness
Lethargy
Increased Appetite
Weight Loss
*Provided by Joslin Diabetes Center
I welcome any new readers visiting from Celtic blog to CIMIT and MGH. Please, feel free to comment as you wish.

I think that we can all commend Ray Allen for his actions in sponsoring this message. He is of course not the first athlete to use his personal life and notoriety to further a cause close to their heart in healthcare (Curt Schilling just to name one).
But for me he quietly touches upon one crucial point for healthcare: Competitive spirit. Competition and strategy excite people to accomplish great things and it doesn't end at the court. If Ray Allen truly takes his competitive spirit into the fight against diabetes, along with collaboration in the field, he will certainly help to make great strides in a disease that is quietly becoming a major epidemic. It could be Allen's presence which will gell the cause to take on more competitive challenges to find solutions just as the X Prize has done.

What we need injected into healthcare, biotech, pharma, and all of the teaching hospitals (especially MGH) is a sense of competition to solve this problems. Competition breeds collaboration and that creates such success as Boston Scientific, Innocentive or FIRST.
Competition will be a driving factor in the solution to many of our greatest health challenges, but what we need is an infrastructure to establish the playing field and nurture that spirit. More thoughts on how to do this will come later. I will ask John Abele to follow up on this with his thoughts.
CIMIT